Error: no price configured
Books

The Vedanta Society of Northern California Bookshop carries almost all of the English language publications of the Ramakrishna Order
including English translations of traditional Sanskrit scriptures. Books from other religious traditions and publishers oriented toward
developing spiritual life and understanding are also included.
Please see the sidebar for our book categories. Inquiries about these and other titles are welcome via email ([email protected]) or phone (415-922-2323).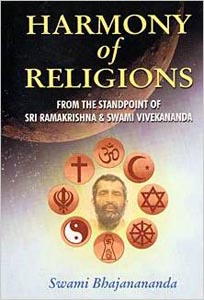 ISBN: 9788187332626
57 pages
Paperback
Price: $2.50
Harmony of Religions: From the Standpoint of Sri Ramakrishna & Swami Vivekananda
By Swami Bhajanananda
An excellent analytical discussion on the concept of 'Harmony of Religions' as experienced and taught by Sri Ramakrishna and Swami Vivekananda. Originally presented as a paper at a seminar on 'Exploring Harmony Among Religious Traditions in India,' held at Ramakrishna Mission Institute of Culture, Kolkata from January 4 – 6, 2007.
ISBN:  9788175054721
216 pages
Paperback
Price: $6.95
My Blessed Days with Holy Mother
By Swami Ishanananda
The present volume is a translation of the Bengali original, Matrisannidhye. Swami Ishanananda had the blessed privilege of serving Holy Mother Sri Sarada Devi since his boyhood. He was initiated by Mother at a very young age and later received the first monastic vow from her. He served Mother from 1909 till her passing away in 1920. In this book the author describes many events from this period of the Mother's life in vivid detail.
ISBN: 9788186617991
314 pages
Hardcover
Price: $14.95
The Divine Legacy
Sister Nivedita, with her rarefied combination of great inner strength, versatility and dedication, serves as a perennial source of inspiration. This anthology concentrates on her unique contributions in the fields of Indian science, history, art, literature, political and cultural identity, nationality, social relief work, civil services, etc. The title 'Divine Legacy' is specially chosen to point out how Nivedita became a fit heiress and apostle to carry out the universal mission of Sri Ramakrishna and Swami Vivekananda.
ISBN: 9788175054783
259 pages
Paperback
Price: $6.95
Let Us Be God
By Swami Ashokananda
The author, Swami Ashokananda, is renowned for his thought-provoking lectures and articles on Vedanta philosophy and its practical application in daily life. This book borrows its title from an inspired utterance of Swami Vivekananda which forms the subject of the Swami's deliberations presented herein as the first lecture. The articles included are: Let us be God; God and the other God; Free will or predestination? Thinking versus meditation;  The quest for power;  Reality as the Supreme person;  The great lie; The religion of the future and the future of religion;  Sri Sankaracharya: A study;  Swami Vivekananda, the Ideal for the modern age.
ISBN: 9780874810554
299 pages
Paperback
Price: $14.95
Living Wisdom: Vedanta in the West
A Compilation
Vedanta Philosophy is, by definition, timeless. But while spiritual truths are eternal, each generation looks at the world through its own prism of experience. This edition is a successor of the 1945 classic Vedanta for the Western World, the most outstanding articles from which have been included in this book. Also included are articles from various Vedanta journals. In addition, a great deal of new material is published for the first time here. Articles are arranged in four sections: Philosophy, Perspectives, Practice, and Paradigm.
The Bookshop will be closed in July, but orders can be placed online. Bookshop hours in August: Saturdays and Sundays, 1 - 4 p.m.
Please refer to the Vedanta Society Bookshop for books.